University of Teesside offering qualifying law degrees recognised in England, Wales and Northern Ireland
The University of Teesside, based in Middlesbrough, UK, has a student body of 22,387 students as of 2007. Recording rises in applications of 11.4 per cent and 2.5 per cent for degree courses beginning in 2005 and 2006 respectively has given Teesside, for two years running, the highest such percentage increases of any university in the North East of England.
Schools
The University consists of six schools.
School of Arts & Media
School of Computing
School of Health & Social Care
School of Science & Technology
School of Social Sciences & Law
Teesside Business School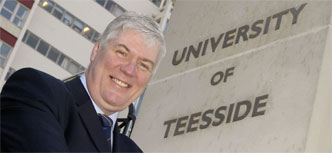 Professor Graham Henderson (left) with CBI Director General Richard Lambert (centre) and Alastair Thomson, Dean of Teesside Business School.
University of Teesside Surprise Yourself
About the University
We are a vibrant, innovative University dedicated to pursuing excellence and enabling individuals and organisations to achieve their potential through high quality learning, research and knowledge transfer.
Your future is sparkling - we're one of the top ten modern universities for graduate prospects.
Founded on a rich past - over 75 years of innovation in education.
One of the top UK universities for widening participation in higher education.
The Tees Valley is one of the country's best kept secrets. We've got top surf, a national park on the doorstep plus unique shopping and culture, bars and famous clubs.
Investment - ?£100m on our friendly town campus at the heart of Middlesbrough.
Our students love it - 84% of our degree students are happy with their course - 60% on courses in academic areas where teaching provision has been rated excellent.
We're research active - with an international reputation for excellence in enterprise.
Our alumni have gone on to great things - opera singer Suzannah Clarke; Marek Reichman, Design Director for Aston Martin; Deborah Dyer (singer, Skin); Roger Shannon, Cannes award-winning film producer.
School of Social Sciences & Law
Why study here?
89% of students studying Sociology at Teesside are happy with their course (National Student Survey 2008)
Undergraduate Courses
Part-time Courses
Postgraduate Courses
More Info:
School of Social Sciences & Law - Homepage
Law & Criminal Investigation
Our LLB (Hons) course is a qualifying law degree and provides exemption from the academic stage of legal training for the Bar Council and Law Society Examinations.
Undergraduate courses
Postgraduate courses
Part-time courses
Law enforcement and professional practice
Meet law & criminal investigation staff
Student views
Satisfied students
Law students gave Teesside a fantastic score of 98% for overall student satisfaction in the 2008 National Student Survey.
Developing skills
Law provides you with a thorough grounding in important skills like analysis, problem solving and written and oral communications. You'll explore key legal concepts and ways of reasoning which can be applied to the substantive law.
At the same time, skills such as the ability to research and present information are developed through individual and group tasks.
Study combinations
Law is also available with other subjects as part of a combined degree and non-law graduates are able to take the LLB (Hons) Senior Status Route over two years of full-time study or three years part-time. This is also a qualifying law degree.
Superb facilities
Our state-of-the-art facilities offer a first class learning environment. We have a replica court room, a police station, the largest crime scene house in a British University, as well as a digital evidence lab.
Mock trials
The University's Mooting Society is run entirely by students and operates a series of internal and external moots (mock trials), including a regional inter-university competition. A separate Law Society also organises social events.
More Info:
University of Teesside School of Social Sciences & Law Law & Criminal Investigation
It's an honour ...
Judge Peter Fox QC, Doctor of Laws, Senior Circuit Judge and Recorder of Middlesbrough
"The Law and Social Science Faculty is closely connected with the legal profession on Teesside, drawing on the knowledge and expertise of local practitioners both Bench and Bar."?
Contact the University
Address
University of Teesside
Middlesbrough
Tees Valley
TS1 3BA UK
Main switchboard
Tel: 01642 218121
Fax: 01642 342067
Email:
[email protected]
Academic Schools: telephone and email
School of Social Sciences & Law
Tel: 01642 342308
Email:
[email protected]